Basics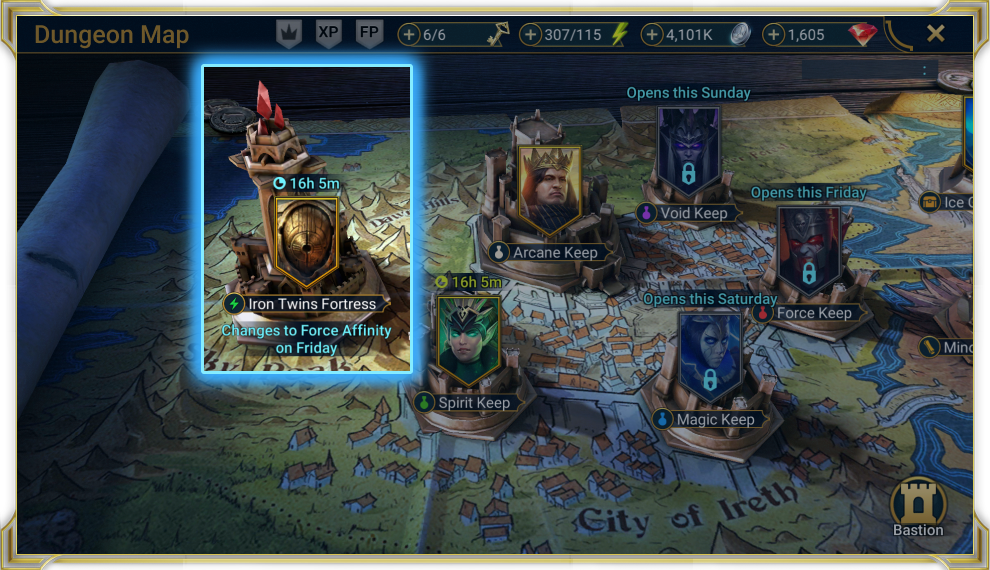 The Iron Twins Fortress is a Dungeon where you can earn the Soul Coins and Soul Essence needed for Awakening. It's the home of the fearsome Iron Twins, and you'll need to employ some unique strategies to defeat this metal menace.
The Iron Twins Fortress works differently to the other Dungeons - it is divided into the four Affinities, with its Affinity changing each day. Also, unlike other Dungeons, you do not gain any XP from defeating the Iron Twins - only Soul Coins, Soul Essence, and Silver.
Schedule
Like with the Affinity Keeps, there is a set schedule for each day's Affinity, meaning you'll need to tweak your team's composition to account for the Fortress' current Affinity:
Spirit Affinity - active on Mondays and Thursdays from 00:00 to 23:59 UTC
Force Affinity - active on Tuesdays and Fridays from 00:00 to 23:59 UTC
Magic Affinity - active on Wednesdays and Saturdays from 00:00 to 23:59 UTC
Void Affinity - active on Sundays from 00:00 to 23:59 UTC
Each Affinity has 15 Stages, and your progression is unique to every Affinity. This means you need to unlock the Stages for each Affinity separately, by progressing through each Stage when that specific Affinity is active. As an example, you could be at Stage 5 at Void Affinity, while being at Stage 10 for Magic Affinity.
Resources Needed To Enter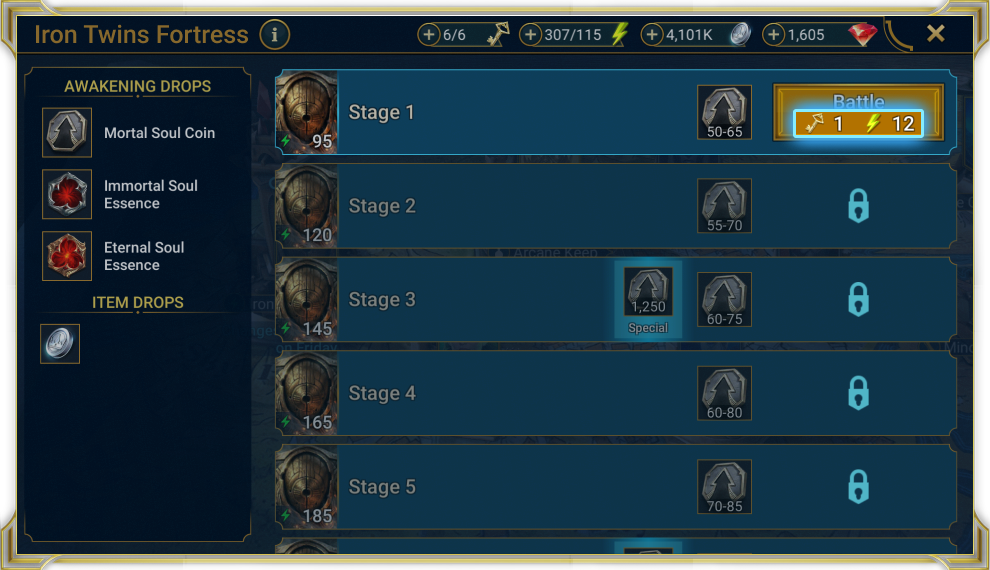 You need Energy and Fortress Keys to enter a Stage within the Iron Twins Fortress. You are given a maximum of 6 Fortress Keys to use per day, with your supply of Keys being restored back to 6 at 00:00 UTC.
If you manage to use all your Fortress Keys but want to keep progressing, you can spend Gems on a Fortress Key Refill, which will restore your supply back to full. You can only buy one Fortress Key Refill a day, so spend your Gems wisely.
If you fail a Stage, you won't lose a Fortress Key but you will lose the Energy, so keep an eye on your reserves.
Regular Rewards

Defeat the Iron Twins and you'll receive the following Rewards (depending on the Stage):
Mortal Soul Coins
Immortal Soul Essence
Eternal Soul Essence
Silver
You can use Soul Coins to purchase items needed for Awakening at the Mystic Market, while you can trade Soul Essence at the Soul Merchant to obtain the Souls of specific Champions you wish to Awaken.
Completing Void Affinity Stages will earn you more Soul Coins and Soul Essence when compared to the other 3 Affinities - so don't miss your opportunity to earn some big Rewards.
One-time Rewards
Upon completing Stages 3, 6, 9, 12, and 15, you'll earn special, one-time Rewards for clearing these milestone Stages. These range from Mortal Soul Coins to even Immortal Soulstones - so it is well worth your time to aim for these Rewards.
Each Affinity has its own set of one-time Rewards, meaning up to 20 for you to collect and then use to Awaken your Champions. Similar to the regular Rewards, the one-time Rewards for clearing Stages 3, 6, 9, 12, and 15 on Void Affinity are greater.