Basics
Live Arena is a PvP mode that allows players to fight against each other in real-time, 4v4 Champion battles. Live Arena opens in set windows on a daily schedule.
To start a Battle, simply tap on the "Find Opponent" button when Live Arena is active. The schedule is available after tapping the "i" icon in the bottom left corner of the "Battle" tab.
Why fight in the Live Arena?
To prove your superior skills and strategies against other players, in real-time.
To win Live Arena Crests so you can unlock powerful Area Bonuses at the Great Hall.
To earn Live Arena Chests that feature valuable rewards.
Live Arena Tokens
Each Live Arena Battle costs one Live Arena Token. The maximum number of Live Arena Tokens a player can hold at any given time is 5. You'll be given 5 Live Arena Tokens at 00:00 UTC every day.
You can also acquire Live Arena Refills from the Shop to instantly get more Tokens.
Live Arena Tiers
Tiers represent a player's performance in Live Arena, and help match them against players of a similar skill level.
A player's current Live Arena Tier and Rank is determined by the number of Live Arena Points they have.
In ascending order, the Live Arena Tiers are:
Bronze (I, II, III, IV)
Silver (I, II, III, IV)
Gold (I, II, III, IV)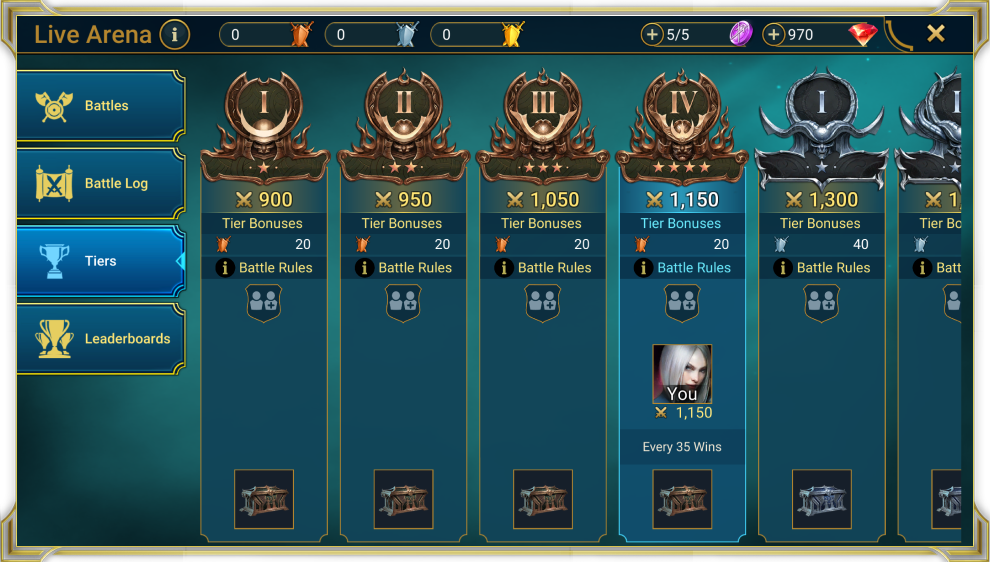 In Silver and GoId Tiers, gaining or losing Live Arena Points can result in either promotion or demotion to an adjacent Tier.
Inactivity penalty
You will be marked as inactive if you do not initiate a Live Arena Battle after 5 consecutive days. Inactive players will lose 5 Live Arena Points each day they remain inactive. Start at least 1 Live Arena Battle to remove this status. You will only start to lose points from being inactive once you reach Silver I.
Battle Preparation
Pick Phase
Once the game has found you an opponent and it's been decided who will pick first, the pick phase begins. You and your opponent will take turns to pick one to two Champions, until you have both picked 5 Champions. Don't delay - you have 30 seconds to pick each individual Champion (60 total seconds if you have to pick two Champions). If you don't pick within the time limit, the game will pick for you, taking into account the power of your Champions.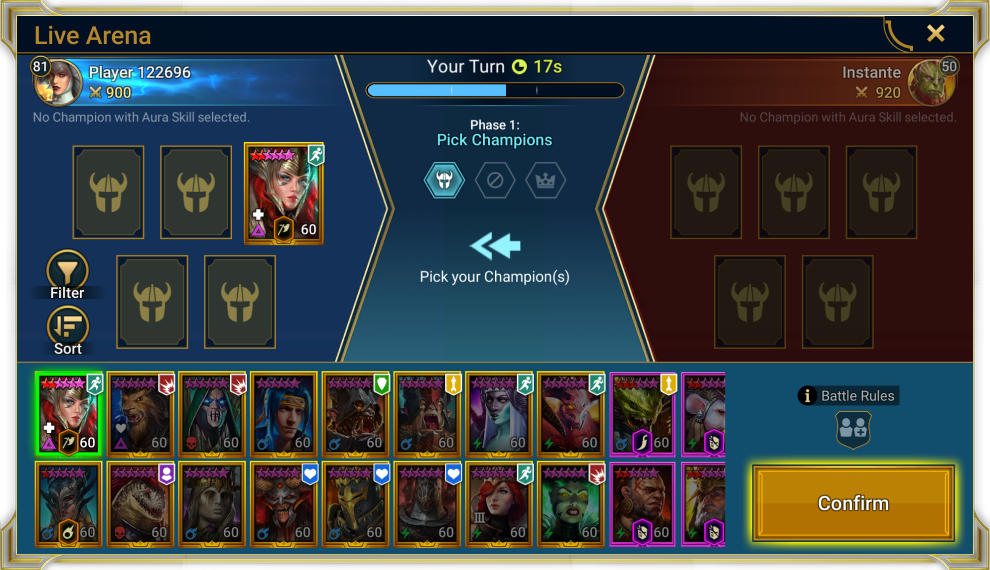 Please note in Bronze and Silver Tiers, you can pick duplicate Champions. Once you hit Gold I though, all Champion picks must be unique across both teams.
Ban Phase
Both players ban one of the opponent's Champions that was chosen during the pick phase. Banned Champion won't take part in the battle and can't be chosen as your team's Leader. As with picking Champions, the game will decide your ban if you do not choose within the time limit.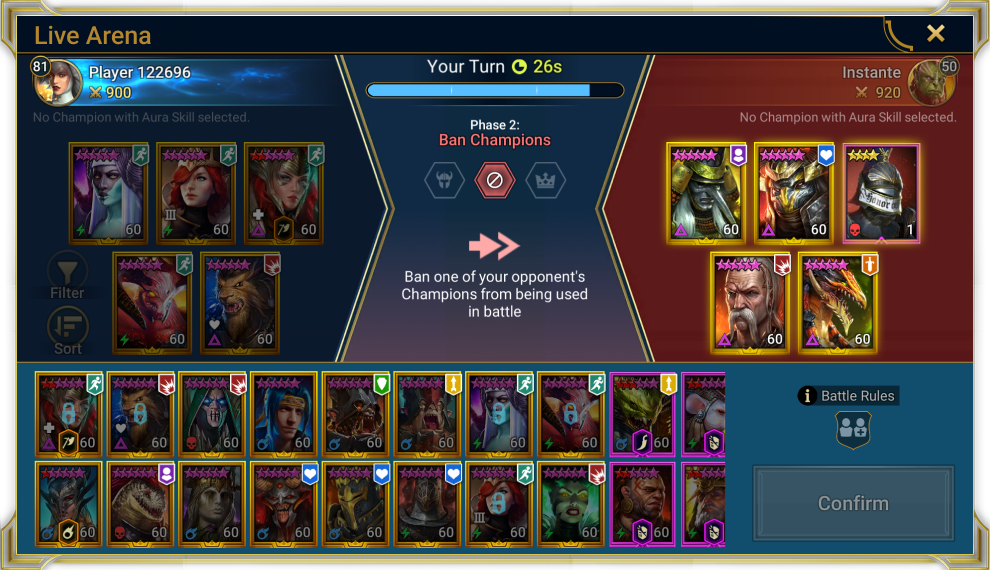 Pick Leader Phase
Once both you and your opponent have banned a Champion, each player picks their team's Leader. Similar to picking and banning, the game will decide your team's Leader if you do not choose within the time limit. Once the teams have been locked in, the actual Live Arena Battle begins.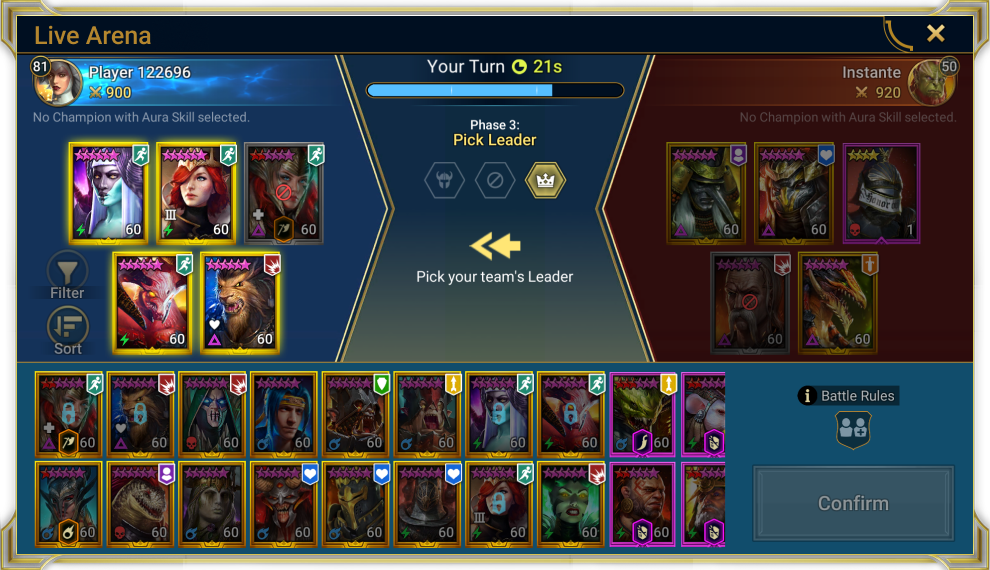 Battle Phase
Standard Battle rules apply here - the Champion with the highest Speed stat goes first. The battle speed is set to x2 and cannot be changed. Each player has 15 seconds to pick the skill they want to use that turn, with the game making the decision if you don't pick in time. Each Live Arena Battle can be a maximum of 30 minutes in length, with both players being credited with a loss if the Battle does not conclude within those 30 minutes. If a player loses connection to a Live Arena Battle and does not reconnect in time, their opponent will be credited with a victory.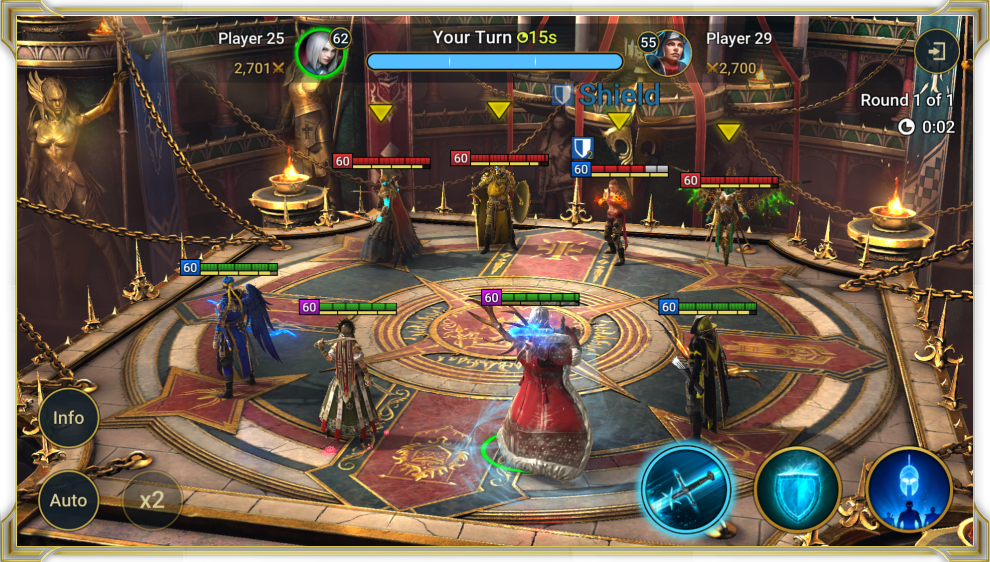 Live Arena Crests
Every victory in Live Arena will reward the player with Live Arena Crests. These Crests are used to unlock and upgrade Area Bonuses for your Champions at the Great Hall in your Bastion.
Like with Medals in Classic Arena, each Tier in Live Arena gives different types of Crests as rewards:
Bronze Tier: Bronze Crests

Silver Tier: Silver Crests

Gold Tier: Gold Crests

Live Arena Points
Live Arena Points determine a player's place on the Leaderboards and within a Tier in Live Arena. Points will be gained or lost depending on whether a player wins or loses a battle. Please note that in Bronze Tier, players won't lose Points for a loss.
Rewards
Different types of Rewards are also available from Live Arena. Win 35 Live Arena Battles and you'll receive a Chest that contains Primal Quartz, as well as Artifacts from Impulse or Zeal Sets. Both of these Artifact Sets are exclusive to Live Arena. The amount of Primal Quartz you can earn from Live Arena Chests per month is limited, and depends on the current Tier you are in. Each player's Primal Quartz monthly limit resets at 00:00 UTC on the first day of each month. Note: You'll receive a Chest based on the Tier you're in at the time the 35th battle happens.
Initiate 5 Live Arena Battles and you'll get a Live Arena Refill once a day. There are also one-time Milestone Rewards that depend on the number of Live Arena Points you earn. As always, the more you battle, the more you get!