Q1. What are Non-retroactive and Retroactive Missions?
All Missions are divided into two types:
- retroactive: the Mission will be counted if it was completed before its unlocking.
- non-retroactive: the Mission has to be completed only after its unlocking. Otherwise, the result won't be counted.

Q2. How to Fuse Justiciar?
You can find this option by following these steps:
1. Open the Portal
2. Go to the tab "Fusion"
3. Tap Relickeeper

To create Justiciar:
1. Fully upgrade 4 Rare Champions needed for its fusion: Warmaiden, Heiress, Spirithost, Diabolist.
2. Select the needed Champions.
3. Tap the "Fuse" button.

Please, have a look at this screenshot (the Rare Void Champion is Justiciar):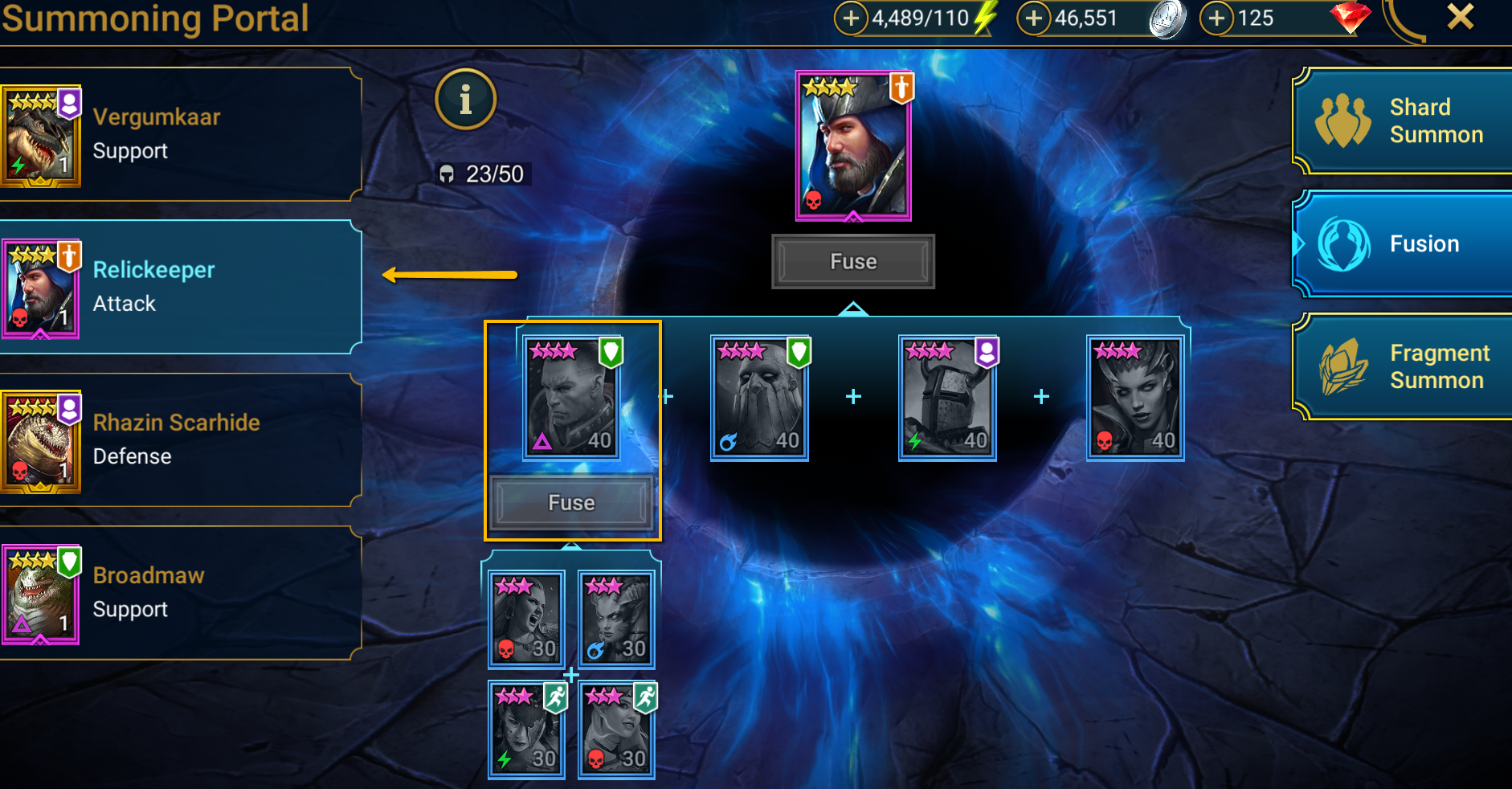 The Mission is not going to be counted in two cases:
- Justiciar was fused before version 1.13
- This Champion was received from the Shard

Q3. Why is the Clan Boss damage not counted towards the Arbiter Mission?
Damage could not be counted in the following situations:
- One battle against the Clan Boss was on a different difficulty
- Misson was unlocked in the middle of the day, and the damage dealt before it will not be counted
- After you unlock this Mission, it will register the damage you deal on your first Demon Lord attack. For example, if you first attack the Demon Lord on Nightmare and then Ultra-Nightmare, the Mission will only count the damage from the Nightmare Difficulty
- Damage was dealt within more than 24 hours

Q4. How to define the Potion size?
Potions come in three types: Lesser, Greater, Superior. The higher your Champion's Rank is, the more powerful Potions you need to fully ascend your warrior.

If you don't have enough Potions, you can either:
- Visit Affinity Keeps to win Potions for that Champion
- Buy Potions at the Shop
- Mix Potions using the Potion Mixer

You can use the Potion Mixer to combine multiple lower-tier Potions into better ones if you need a Potion urgently. Here is the formula:
10 Lesser Potions = 1 Greater Potion


10 Greater Potions = 1 Superior Potion



Q5. How to use 5 Silver Keys in the Doom Tower?
You can use additional Silver Keys to clear Secret Rooms for the first time or to farm Boss Floors for rewards after you have beaten them once.

Q6. I have beaten the Doom Tower Floors, but the Mission was not counted. Why?
This Mission is non-retroactive. All the requirements should be met after its unlocking.