Here are a few reasons for the issue:

- Incorrect login credentials
- Lost or forgotten login credentials
- No connection to Plarium ID, Facebook or Apple ID

If your account was connected to Plarium ID

1. Check your login credentials
2. Try to reset your password on plarium.com
3. If you created a new account by accident, tap Log in in the Profile tab and fill in your Plarium ID credentials

If your account was connected to Facebook or Apple ID

1. Make sure your login credentials are correct
2. If you find yourself in the new account, go to the Profile tab and tap on the Facebook or Apple ID icon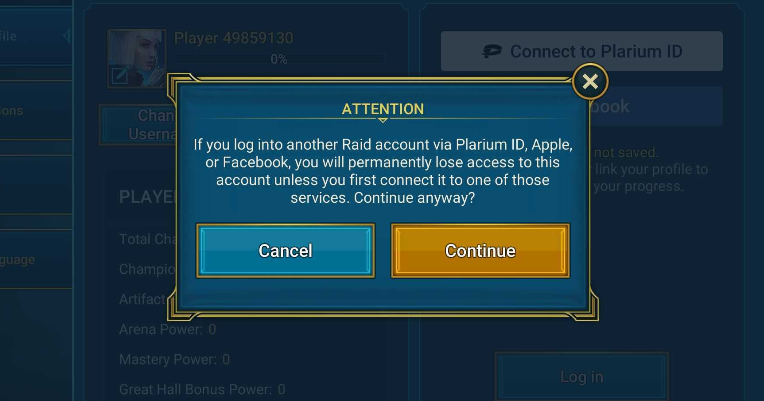 If your account was not connected to Plarium ID, Facebook, or Apple ID

You will not be able to restore your game progress on your own.

How to submit a restore request?

Reach out to our Support Team by:

- Filing in this form (Game account access)
or
- Sending your request:
Settings > Info tab > Support button > Problem Accessing Game Account > Describe your issue > Tap "Send"

Please, provide the following information so that we can find your account:

- Nickname or numeric ID of the lost account
- The model of the device you used to play the game
- The approximate date and time of your last login
- Any additional information about your account: the name of your Clan, Arena Champions, etc.
- The screenshot of your last purchase confirmation emailed to you by the App Store or Google Play.
It should be a purchase made on the lost account before contacting us.

For information on how to access your purchase history, check the articles below:
Google Play (Android): Review your order history
App Store (IOS): See your purchase history for the App Store or iTunes Store

Important:
Buying, selling, or trading accounts is against our rules. We reserve our right to limit interactions with purchased/sold accounts, or reject the restore request for the accounts obtained through third party services.

Two-factor authentication (2FA) is an important security measure that adds a second layer of protection in addition to your password. We highly recommend enabling it on your account. You can do it by following the steps described in the article "How do I enable and activate two-factor authentication?"