Delete Account button
We are dedicated to protecting the privacy rights of our players. Hence, this button was added to provide our players with the option to exercise rights in relation to their personal information, specifically, the right to request the deletion of all their personal information, such as by changing the applicable information found in their Plarium account.
Note: the Delete Account button is available only on iOS devices.
By pressing the Delete Account button, you create a ticket requesting to delete all your personal information stored in your account.
Important: This will affect information from all Plarium games connected to the same Plarium ID.
Note: The deletion process does not start until you are verified as the account holder.
After verifying the player, the respective team will start the process of permanently deleting or anonymizing all personal information stored in the account. This includes, but is not limited to:
- account information
- all game progress
- any purchase history
- any virtual items you may have earned or are unspent
- any other data associated with your account
Note: Information stored outside your account (for example, your message history) will not be affected.
As a result of the said action, the account will be permanently deleted.
The account and the content recorded under it will no longer be accessible.
The account name becomes available to anyone else to use on a new account.
How to use the Delete Account button?
To create an account deletion request using the Delete account button, please:
1. Tap the "Delete Account" button in the account settings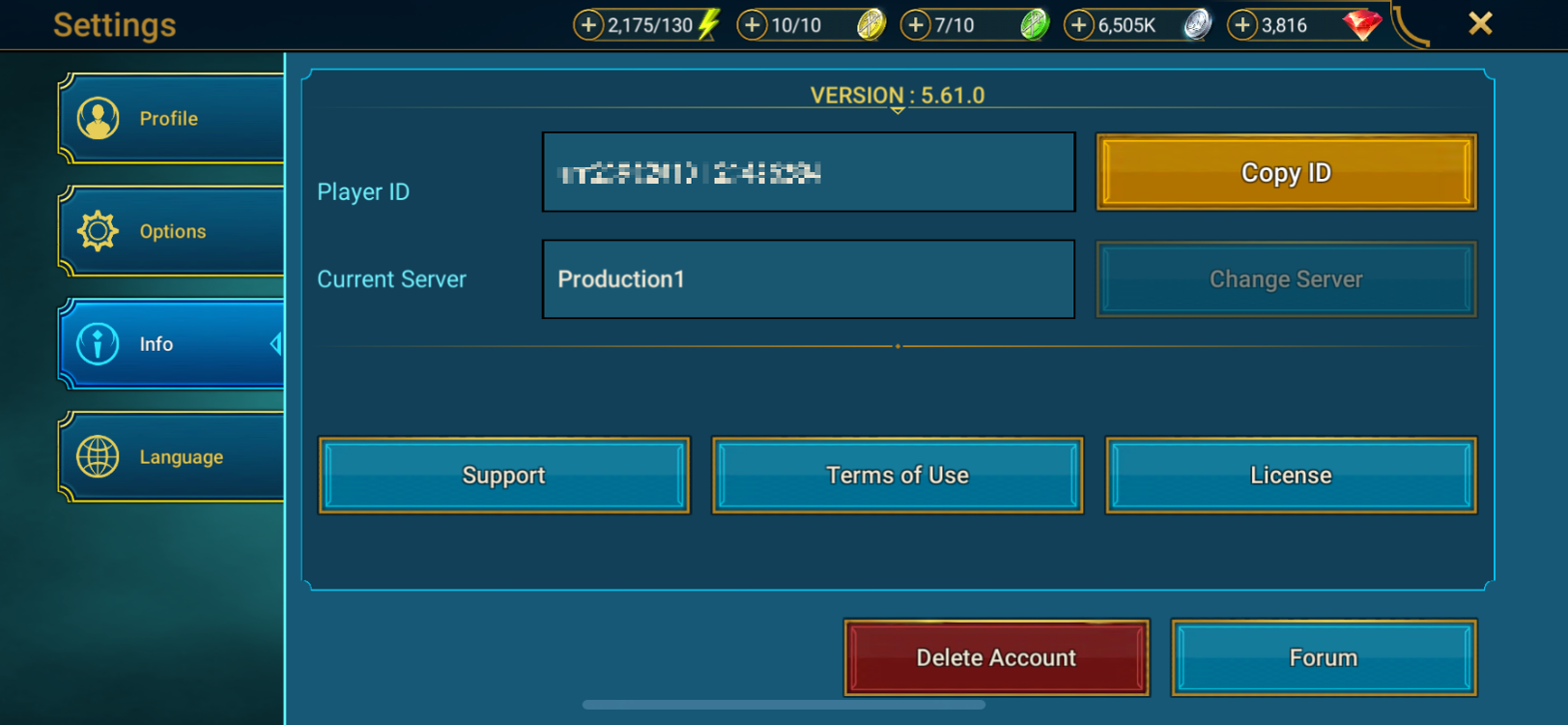 2. Select the reason why you want to delete the account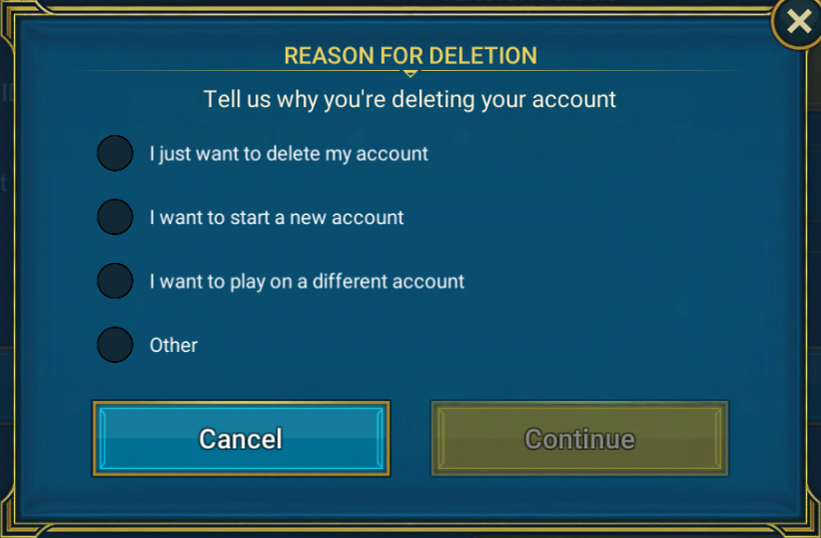 3. Complete the deletion form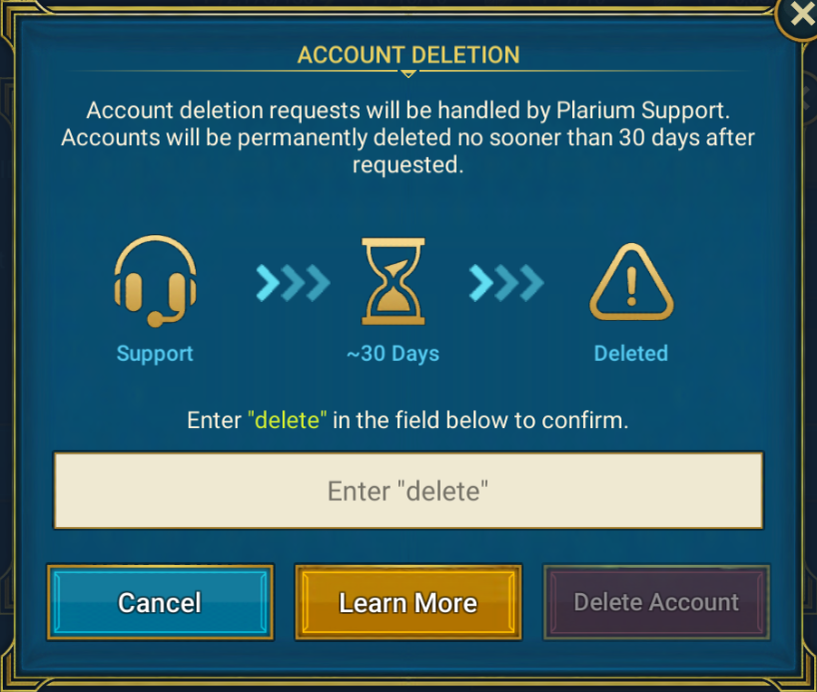 4. Provide the requested verification information to the support agent when prompted
What to do if I don't have the Delete Account button?
We encourage players to exercise their privacy rights by sending an email with a corresponding request to privacy.support@plarium.com.
More information on this topic can be found in our Privacy and Cookie Policy https://plarium.com/en/legal/privacy-and-cookie-policy/

Other useful account management articles:
How to start a new game:
https://raid-support.plarium.com/hc/en-us/articles/360013997720-How-to-reset-progress-or-start-a-new-game-
How to log in to an existing account or recover access to one:
https://raid-support.plarium.com/hc/en-us/articles/360014004740-I-lost-access-to-my-in-game-account-What-should-I-do-

Also, you can delete your Plarium ID on plarium.com
1. Log in with your Plarium ID
2. Open your Profile
3. Go to Profile information
4. Click Edit in the Account section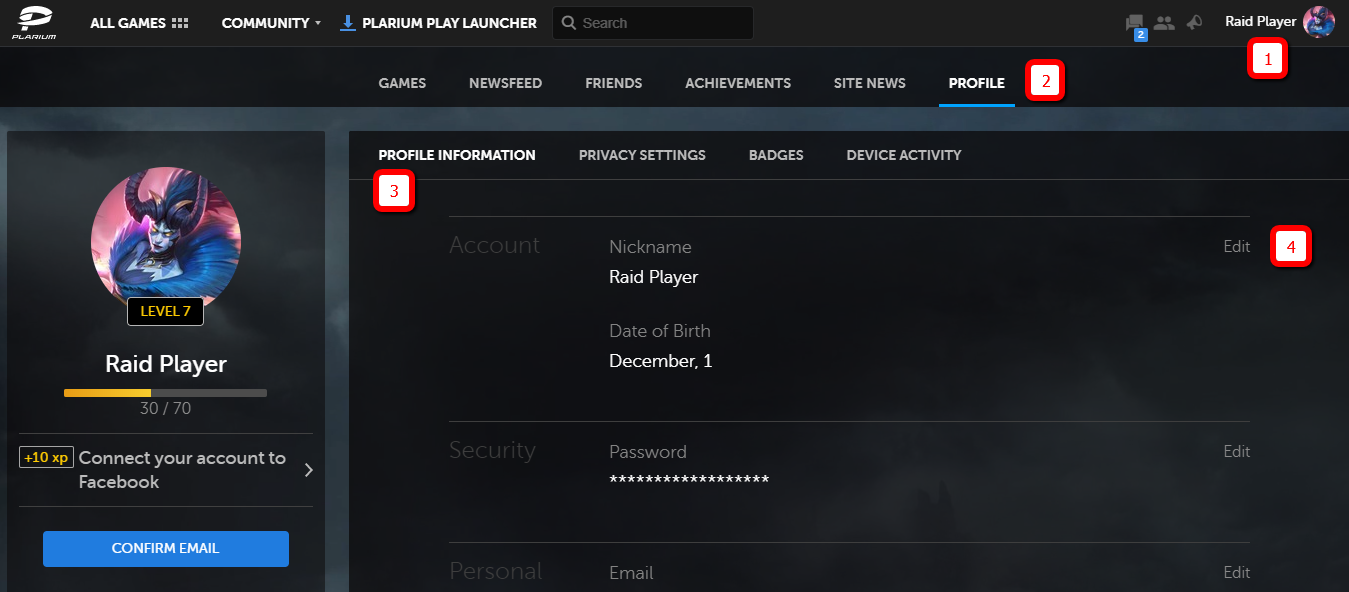 5. Click Delete account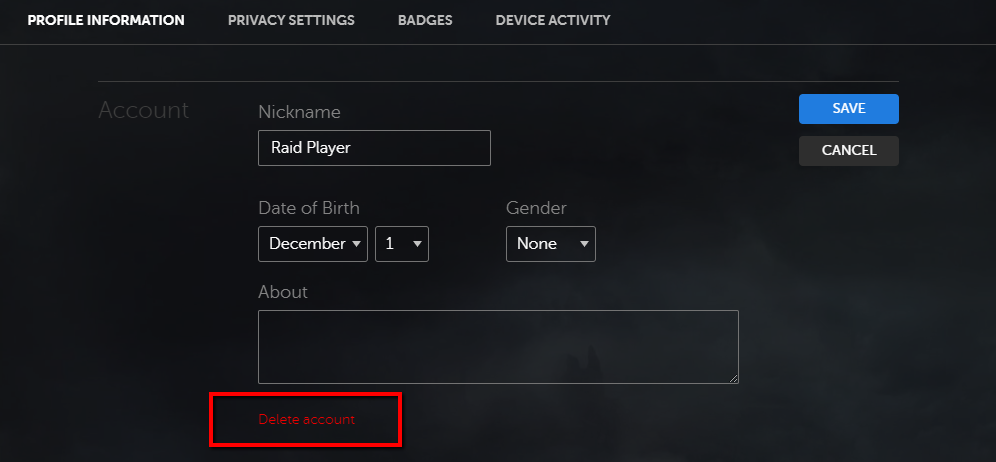 If you decide to restore your account, use the recovery letter emailed to you after you deleted your account. If you haven't received any email, please contact our Support.

Note: Plarium may collect and use your personal information to provide you the services. According to our Privacy and Cookie Policy, you have the right to ask us to delete any of your personal data.