Champion Fusion is a function available in the Portal. It allows you to create a new Champion using Silver and lower-ranked Champions.

Each Champion to fuse has its list of Champions that can be obtained on different locations, summoned from Shards, or earned in the Tournaments and Events.

The time for meeting the conditions and collecting Champions can either be strictly limited or not. E.g., Relickeeper and Broadmaw Fusions are permanent. Still, Limited-time Fusion Events have a strict countdown shown in the top-right corner of the Fusion tab.

You cannot use Champions that:
- have a lower Rank/Ascension level than needed for fusion
- are locked
- are used in the Arena Defense

Only Champions with the maximum Ascension Level and the maximum Level for their Rank can be used for fusion.

Brief instruction:

1. Open the Summoning Portal > Fusion tab
2. Choose a Champion you want to fuse
3. Fill in the Slots with necessary Champions (choose one and confirm your action by tapping his avatar on the left sidebar)
4. Do the same with other Champions
5. Tap the Fuse button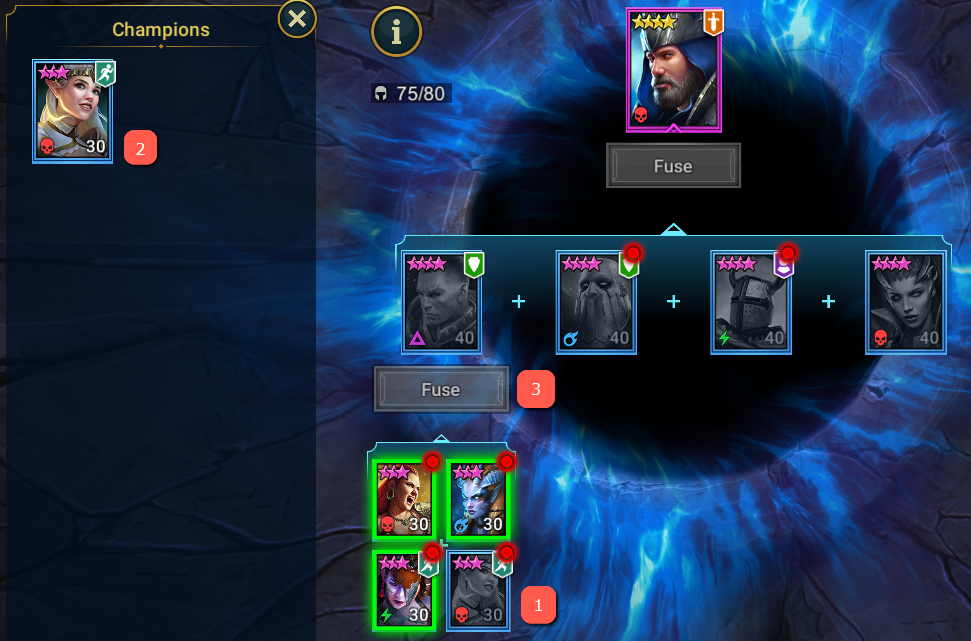 Champion Fusion works like a development tree. Fuse low level Champions to get a stronger one. Then get an even more powerful Champion by fusing this Champion with other required Champions.