Affinity is one of the main characteristics that influence Champion's Skills and damage output in a battle.
Every Champion in RAID: Shadow Legends has one of four Affinities, each associated with a color. Magic is blue, Spirit is green, Force is red, and Void is purple.

Each Affinity is stronger or weaker when used against the other ones:
- Force is stronger than Magic
- Magic is stronger than Spirit
- Spirit is stronger than Force
- Void is neutral and isn't impacted by the advantages or disadvantages of the other Affinities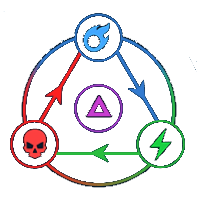 Watch our video about Champion Affinities to learn more about this game aspect.

How does it work in a battle?

If the attacker has an Affinity Advantage:
- A 30% chance of a Skill landing as a Strong hit
- An extra 15% chance of a Skill landing as a Critical Hit

If the attacker has an Affinity disadvantage:
- Damage is reduced by 20%
- A 35% chance of getting a Weak Hit
- A chance of a Skill landing as a Critical Hit is reduced by 15%
- He won't be able to place a Debuff on his opponent.
What are Hit types?

- Weak Hit
It decreases the damage by 30% (including all bonuses) and does not activate certain effects. For example, Shield. Exceptions - Damage and Heal.

- Normal Hit
The damage a Champion deals is just the basic output of the Skill. This type of Hit offers no advantages or disadvantages.

- Strong Hit
It deals an extra 30% damage.

- Critical Hit
It deals an extra load of damage equal to the Crit Damage stat.
If a skill does, for example, 100 damage by default and you have 200% Crit Damage, you'll deal 300 damage on critical hits.