Basics
Tag Team Arena, also known simply as Tag Arena, takes Arena battles to the next level. You'll be tasked with assembling 3 separate teams to fight your rivals across a Series of battles.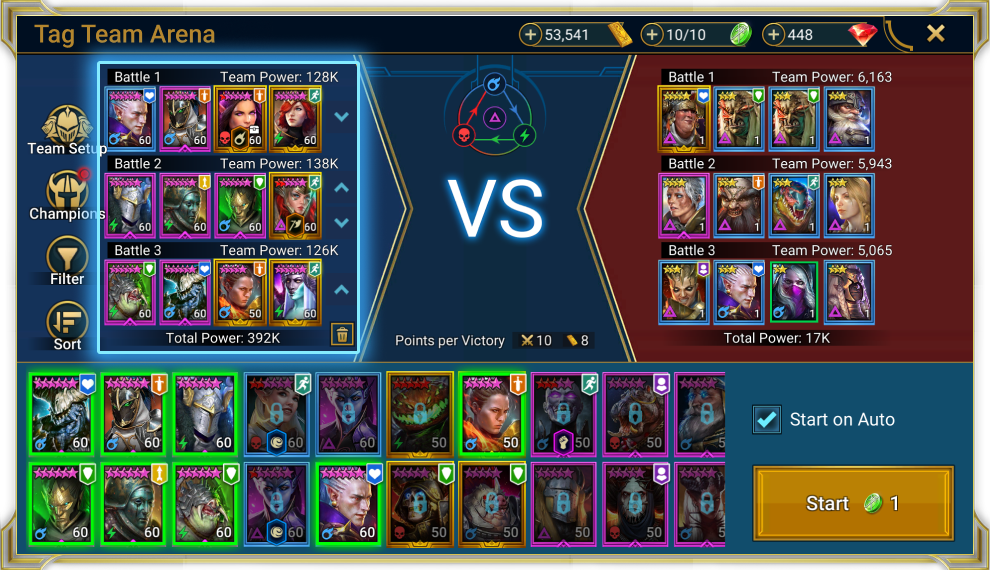 Each Tag Team fight consists of a Series of 3 Battles. The player to win 2 Battles wins the Series, so be sure to put your strongest foot forward.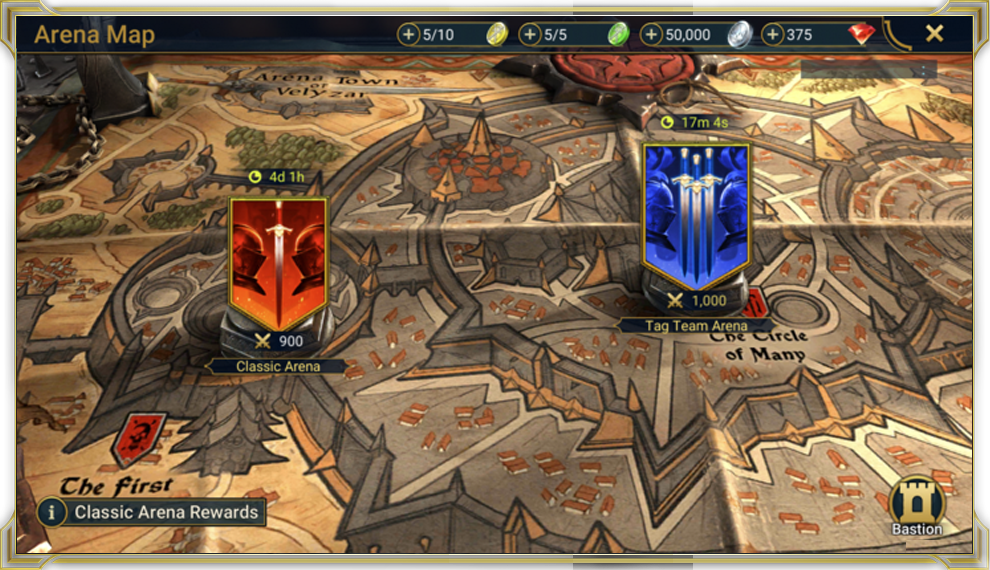 Tag Arena and Classic Arena can be found on the Arena Map. Each have their own Offense and Defense teams, as well as their own Tiers and Rankings - meaning you'll have to work your way up the ladder in both Arena modes separately.
In Tag Arena, each Battle won or lost in a Series decides how many Tag Arena Points you'll get at the end - so you'll want to win all 3 Battles to guarantee a steady points gain.
Keep your teams strong if you want to maintain your position.
And of course, lose 2 or more Battles, and you'll end up losing - so keep your teams strong if you want to maintain your position.
The number of Tag Arena Points you have determines your Tag Team Arena Tier.
Tag Team Arena Defense
Before you start battling in Tag Arena, you need to set your Arena Defenses. In Tag Arena, you'll need to set 3 separate Arena Defense Teams. Team 1 will fight in the first battle, Team 2 in the second, and Team 3 in the third.
Each Team can contain up to 4 Champions. Champions chosen for Arena Defense teams cannot be placed in the Sparring Pit, or sacrificed at the Tavern or in Fusions.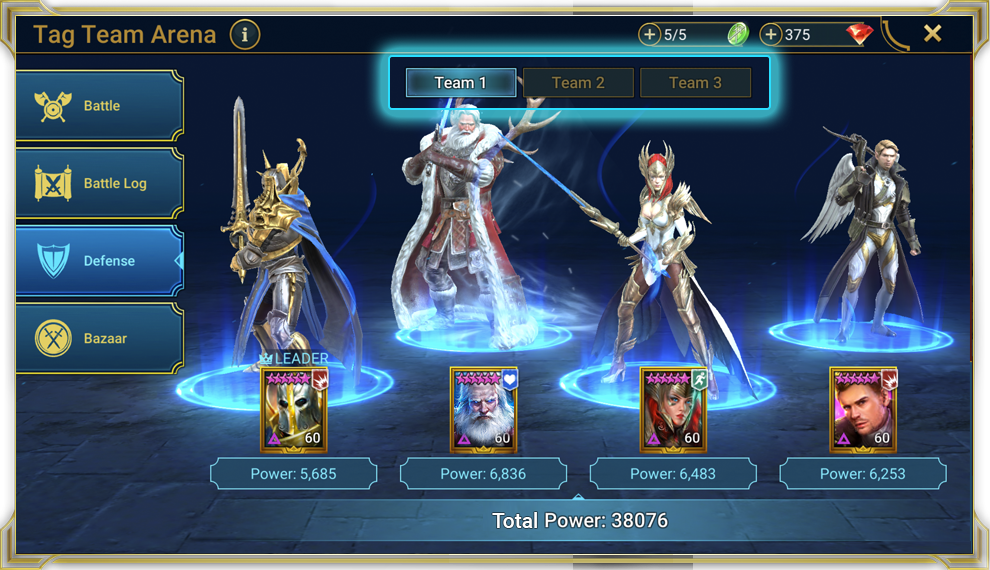 The Teams you set for your Tag Arena Defense will fight on your behalf when other players attack you. Much like in Classic Arena, Champions in Arena Defenses will be AI-controlled and will fight without any player input or control.
Tag Team Arena Offense
Each Series consists of 3 independent Battles. You'll win the same number of Tag Arena Points for each Battle victory within a Series, as shown on each opponent in the Battle tab. You'll also be able to review each of your opponents' 3 Tag Arena Defense Teams.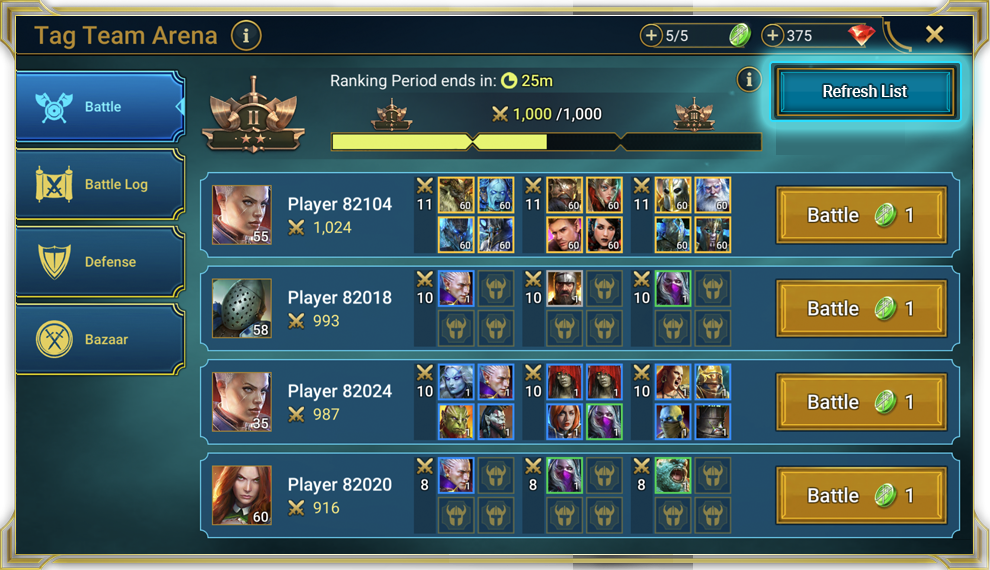 You can refresh the opponents list every 15 minutes for free, but you can also refresh using Gems if you don't want to wait.
Tag Team Arena Tokens
Battling in Tag Arena costs Tag Arena Tokens. These are different than Classic Arena Tokens, so you don't have to pick and choose which Arena mode you want to focus on.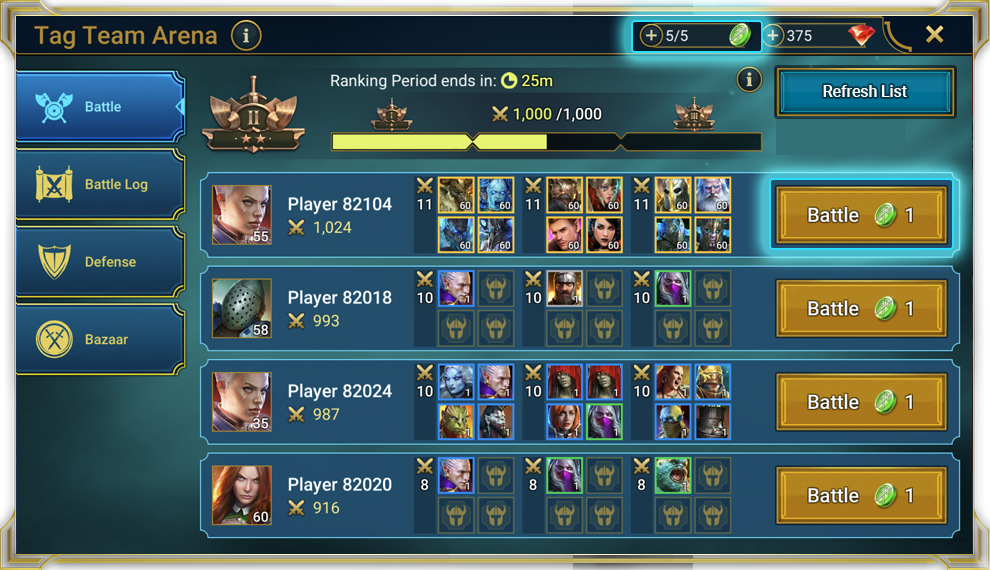 The maximum number of Tag Arena Tokens a player can hold at any one time is 10. You'll be given 10 Tag Arena Tokens at 00:00 UTC every day.
Unlike Classic Arena, Tag Arena Tokens don't regenerate throughout the day.
You can also acquire Tag Arena Refills at the Shop to instantly get more Tokens.
Tag Team Arena Points
Tag Team Arena Points determine your Tag Arena Tier and your position within that Tier.
Tag Arena Points are on the line in every Series and every Battle - both Offense and Defense.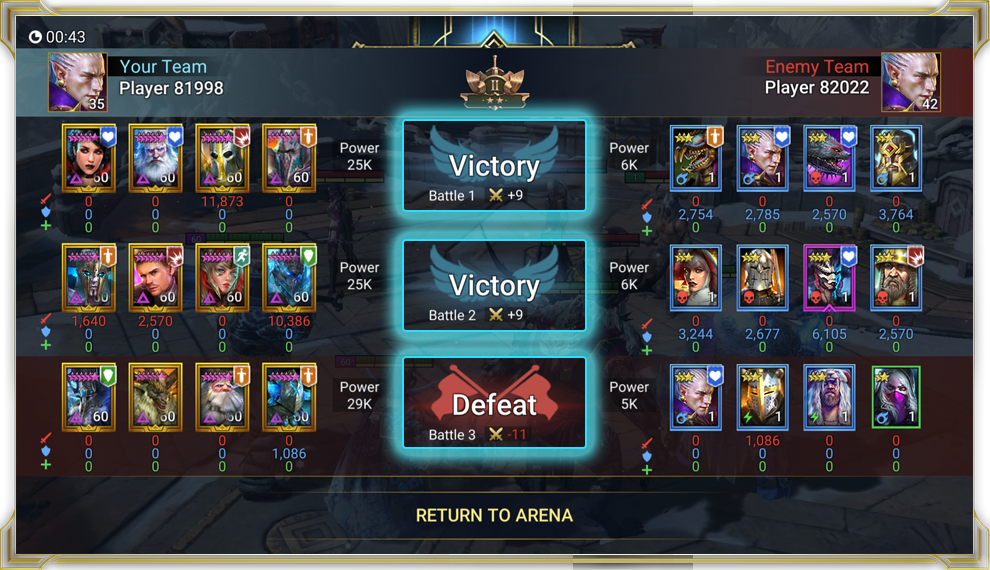 You'll earn Tag Arena Points for every Battle you win within a Series, and you'll also lose Points every time you lose a Battle.
Whether you come out of a Series positively or negatively in terms of Points is determined by the net aggregate score - by adding or subtracting Points for each won or lost Battle within that Series. Win 2 Battles, and you'll win the Series and begin to progress up the Rankings.
Gold Bars
Gold Bars are a special resource that can be exchanged for rare and valuable items at the Bazaar.
You'll also earn Gold Bars from every Battle win in Tag Arena - as well as an extra bundle once a week according to your Tag Arena Tier placement.
Note: you need to fight in at least 10 Tag Team Arena Series each week to be eligible for your weekly Tag Arena Rewards after Tier Placement.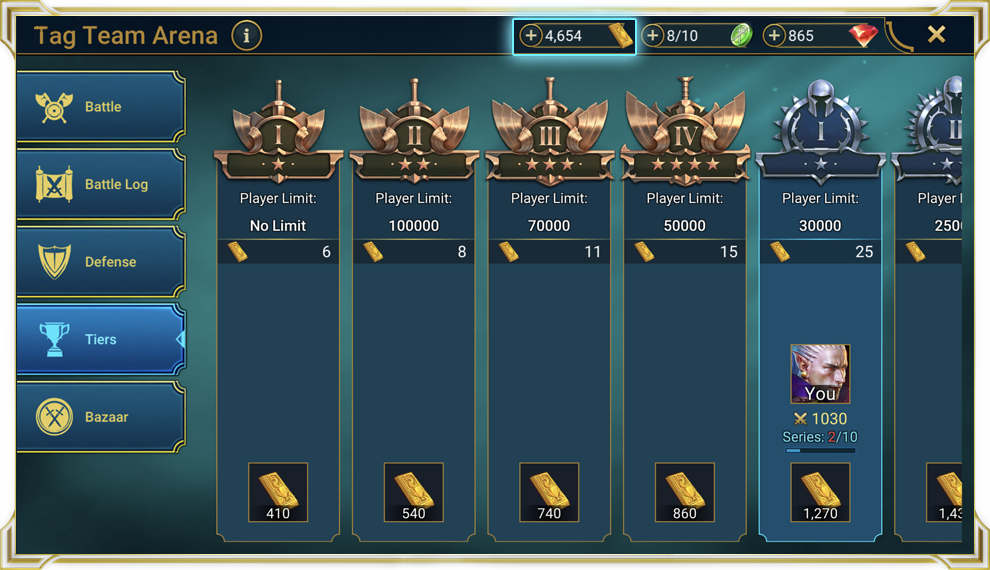 Players in higher Tag Arena Tiers will earn more Gold Bars, but they'll also have access to wider selection of rarer items at the Bazaar.
Bazaar
The Bazaar gives you access to a wide range of highly sought-after items. Items at the Bazaar can only be acquired by exchanging them for Gold Bars.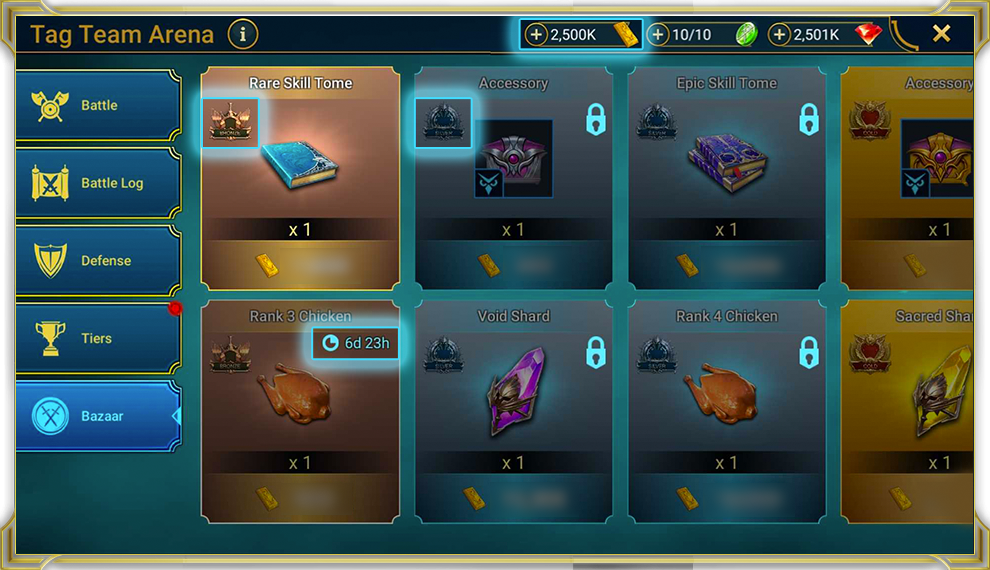 Items at the Bazaar may have cooldowns or purchase limits. Cooldowns at the Bazaar won't be temporarily paused if you are demoted to a lower Tier while a cooldown is active.
Your Tag Arena Tier determines which Bazaar Slots are open to you, and therefore which Items you're able to get. For example, players in Silver Tiers won't have access to items in Gold Slots, but will be able to acquire all items from Bronze or Silver Slots.
Bronze Slots are open to everyone, while higher Tier Slots will open immediately as soon as you reach the required Tier.
Tag Arena Tier Placement
In Tag Team Arena, Tier placement happens every Monday at 06:00 UTC.
The progress bar shows your position within your Tier – whether you're at the bottom, somewhere in the middle, or holding one of the top positions.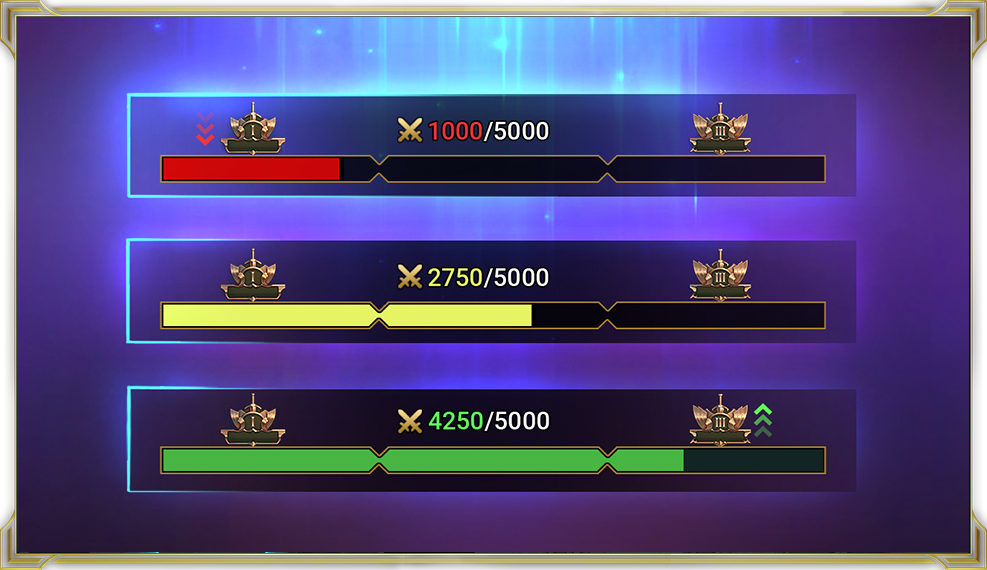 The progress bar's color indicates what will happen when Tier placement occurs. Red means you'll be demoted to a lower Tier, yellow means you'll stay in the same Tier, and green means you'll be promoted to a higher Tier. After Tier placement, all players start with 1,000 Tag Arena Points in their respective Tier.
Tag Arena Tiers have no Point limits. The current highest Points total in your Tier is shown next to your current Points above the progress bar. You can see how far you have to go if you want to take first place in your Tier.
Note: You need to fight in at least 10 Tag Team Arena Series each week to be able to stay in your Tier or to be promoted to a higher Tier. Otherwise, you'll be demoted to a lower Tier.
Battle Log
Battle Log allows players to review their Tag Arena battle history over the course of the past 24 hours, both in Offense and Defense. It will show the 10 most recent Series in both Offense and Defense.