Promo Codes on iOS
Due to technical reasons, the Promo Code option has been disabled on iOS starting from v. 7.10.
Please don't worry; our developers are already working on a solution to this problem.
Promo Code issues on plarium.com
Some players may face the "Processing your Promo Code" error while redeeming promo codes using iOS devices via the plarium.com website.
Our developers know about this issue and are already working on its fix.
As a temporary solution, please log into your game account from a different platform: Android / Plarium Play. Then, try redeeming the promo code on plarium.com again.
Artifact upgrade error
Some of our players may experience the "Artifact_MaximumLevelReached" error while upgrading the Artifacts. It is a visual bug. Silver did not disappear from your balance. The correct amount of Silver was used to upgrade your Artifact.
To solve it, please clear the cache and restart the game.
The game is being laggy. What happened?
Due to the Unity updates currently being carried out in the game, many players may experience performance issues:
- it takes too long to enter your account or different in-game locations
- the app freezes when you start or end the battle
- the game may lag after you do some actions
- RAID: Shadow Legends crashes when you start it on your PC via the Plarium Play app.
Launch error
Some players may experience the "Launch error" when starting the game via the Plarium Play Launcher.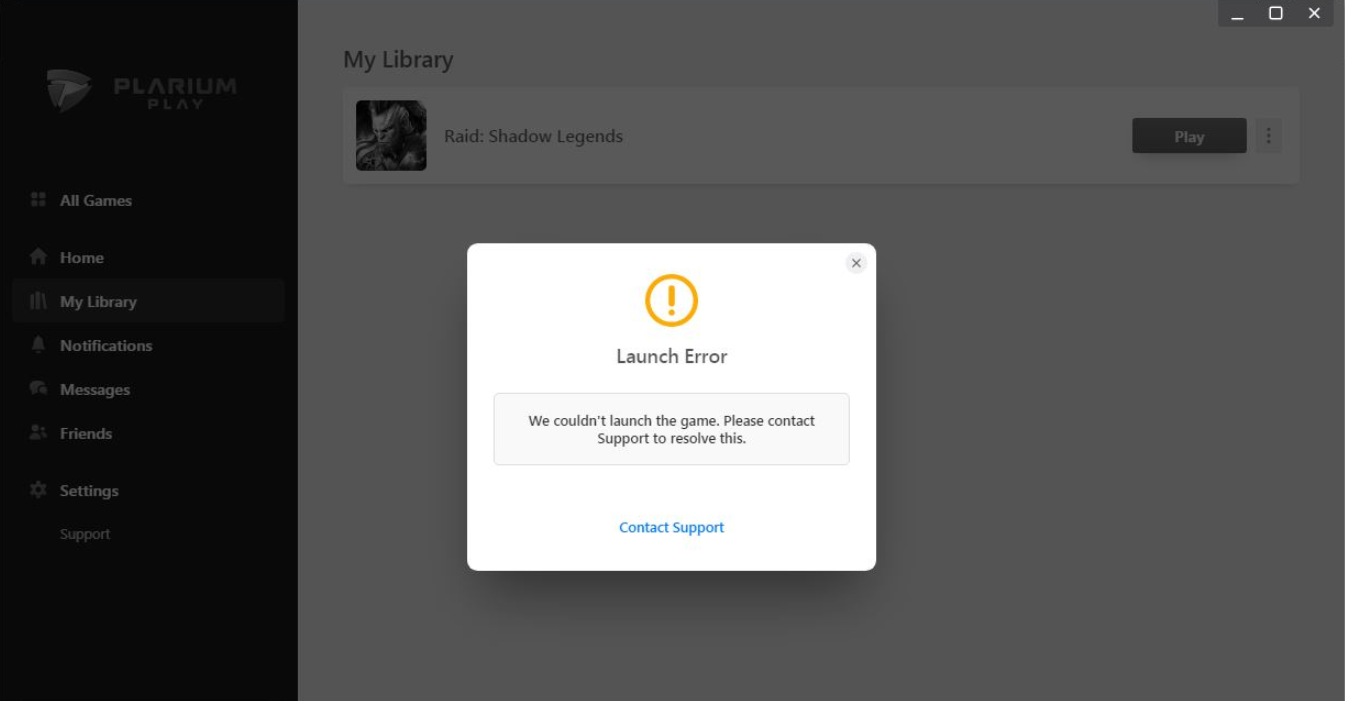 This Error may be caused by a space (special symbols or Cyrillic letters) in the Username Folder or the installation Path.
Please uninstall RAID and Plarium Play Launcher completely from your PC.
Follow these steps to uninstall the Plarium Play app:
1. Open the folder where Plarium Play is installed
2. Find there the "uninstall.exe" file
3. Run the file to uninstall the Plarium Play app from your computer
4. Reinstall the app from the official website plarium.com

Then reinstall both the launcher and the game in a different folder that doesn't contain any spaces (special symbols or Cyrillics) in the name or the installation Path.
We will do our best to fix the problems mentioned above as soon as possible. Please stay tuned for new game updates.
Long wait for confirmation emails

Some of our players may experience long wait times for a confirmation email after logging in using 2FA, verifying their account, or changing their password.
The problem occurs with Microsoft domain emails, and while our developers are fixing this issue, you can contact the Support Team to get help with your account.



We will fix these issues in the next releases.

Important: If your bug isn't listed here, please report it by following this guide.